The ceremonial aspect of the Norwegian Royal Guard has been dissolved and will remain so until the autumn. This was announced this week by the Royal Norwegian Army. The drill and music squad will cancel its operations because of the coronavirus.
Lieutenant Colonel and Head of Communications in the Army, Per Espen Strande, confirmed this in a statement: "These are many well-trained soldiers who are now being redeployed. Now they fill a need that the defence has somewhere else. The reason for the redeployment is that the corona situation has led to several of the events that the company should actually attend being cancelled".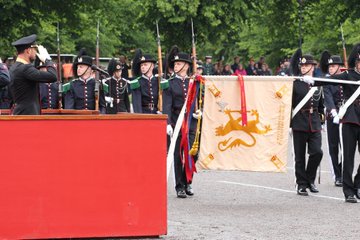 This means that the soldiers in the drill squad do not have work tasks that they would normally have. Therefore, these crews are being redeployed to meet the needs of the Armed Forces elsewhere. Of course, the soldiers' activity has not been stopped and the crews would not have been redeployed if this had been a normal year without coronavirus.
The soldiers are expected to be transferred to other companies in the Royal Guard. These soldiers will then serve as guards outside the royal residences of the capital. His Majesty the King's Guard also functions as a defence force in Norway's capital Oslo and will assist the police when needed.
The King's Guard 3 Company is a renowned military band and drill unit the Norwegian Armed Forces. It is attached to The King's Guard, acting as its unit band and drill team. The band and drill unit is based in the capital Oslo which is its area of responsibility. It is a renowned unit that is famous around the world for its participation in international military tattoos.
In its activities, it participates in parades and ceremonies for the Norwegian Royal Family. It also supports the government and the military, specifically increasing the esprit de corps in army units as well as in the public. The concert season usually lasts from December to March/April while the marching season lasts until September.