Oskar Aanmoen/Royal Central
Later this week, a very special event takes place in Norway on a day that will go down in Norwegian history. Crown Prince Haakon will officially open the Norwegian Parliament, the Storting, for the very first time. It will also be the first time in exactly 30 years that the opening will be overseen by a Crown Prince and not the nation's reigning Monarch.
This will happen as on September 25th 2020, it was announced that King Harald had been admitted to hospital in Oslo. The Norwegian Royal Family later confirmed it was because the King had laboured breathing. Covid-19 was ruled out after tests. On Friday evening, the Royal Court came with an update on the king's state of health. Here they confirmed that the King will be in hospital over the weekend and on sick leave until 4 October.
This means that King Harald is on sick leave when the Parliament opens on Friday 2 October. The last time a Crown Prince opened the Parliament was in 1990. Then it was present King Harald who opened the Parliament as Crown Prince. His father, King Olav V, was then seriously ill and would die only a few months later.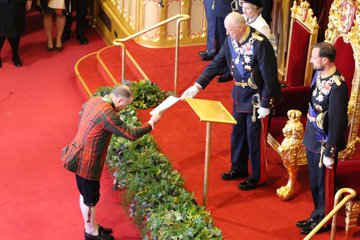 Queen Sonja is also listed to attend the ceremony. There is great excitement about whether Crown Prince Haakon will make the opening sitting in his Crown Prince's throne or whether he will use the Norwegian Monarch`s throne as he is the reigning monarch in his father's absence.
The celebration of the opening of the 165th Norwegian Storting will also be historic as a result of the corona situation. It will both be shorter and have fewer people present than usual. The ceremony usually has at least 1,000 guests, including the 169 parliamentary representatives. This year's ceremony will have 200 guests, including the representatives, the royals and the representatives of the army. There will be only a few selected press people in the parliament-hall and fewer soldiers are expected to be involved in the ceremonies that take place outside the parliament building.
President of the Parliament, Tone Trøen, issued the following comment: "We will remember this opening. It must be implemented in accordance with the Constitution, as safely as possible, and as far as it goes in line with the long traditions of our old Kingdom".